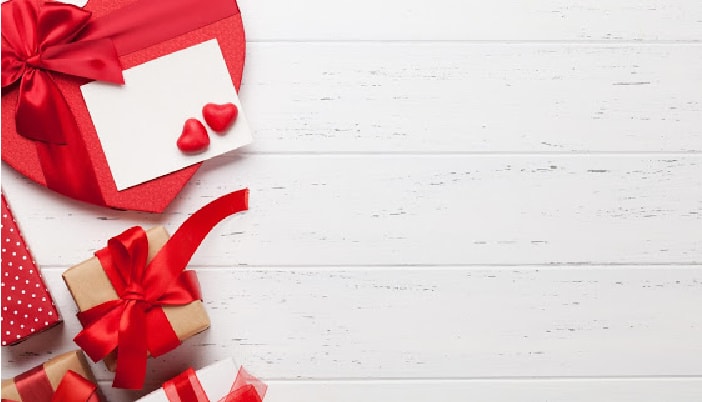 We scoured the Wal-Mart website to bring you the BEST Valentine's Day gifts from Wal-Mart. There's a section for her and for him.
There are no chocolates, stuffed animals or cards listed here because we figured you knew about those already 😉
These are fun gifts you may not have thought of or found from Wal-Mart!
This post contains affiliate links. Please see our full disclosure here. In addition, this site is not intended for medical advice. See our full policy here.
Let's get in to the top Wal-Mart Valentine's Day gifts:
FOR HER
Bubble Bath Gift Set
Let your love relax in the tub with scents like Melon Daquiri, Senorita Maragarita or a classic bubble bath. These sweet scents are great for shower gel, bubble bath or shampoo!
Bamboo Bath Caddy
The extendable arms on this bamboo bath caddy ensure that it will fit whatever bathtub you buy it for! It even has a book holder, wine glass holder and side trays for bath supplies. You can't go wrong with this eco-friendly bath caddy.
Black Opium Perfume
Sensual and velvety- sweet, yet provocative. Black Opium perfume is a delicious scent that makes a great Valentine's gift.
Love Photo Frame
Guys, this frame is perfect for your love. If you add a cute photo of the two of you together? Oh, you win!
Cottage Lane Chunky Knit Blanket
Getting your Valentine a snuggly blanket is always a good idea… especially if it includes a movie night 😍
Personalized Family ring
This personalized ring features 3 different birth stones that can be customized to her and her family. There's room for engraving on the inside of the band- leave her a message she can keep with her forever.
Classy Lingerie
Maybe your love would appreciate something, you know, sexy to wear on Valentine's Day. Give her a gift of classy lingerie 🙂
Bath Bombs
Bath bombs are just the best. You drop them in and they fizz and swirl, adding beautiful color and delicious scents. Is there a point to a bath without a bath bomb?
Jade Facial Roller
Jade is a semi-precious stone that symbolizes beauty and youth. These jade rollers are very popular right now- they help to tighten and even skin tone and give your skin a healthy glow.
Kobo
Maybe your Valentine doesn't much care for the above gifts- maybe they're interested in BOOKS! If they don't have an E-reader yet, why not gift them a Kobo? That way she can carry around thousands of books everywhere she goes.
FOR HIM
Dior Sauvage Eau De Toilette
Dior Sauvage Cologne has a statement scent that shows a wild and unruly side. Natural scents taken from the wild plains and woody trails that offers a truly unique cologne!
Apple Air Pods
Have an Apple fanatic? Apple AirPods have noise cancellation technology, are sweat and water resistant and have a transparency mode.
These AirPods would make a great gift for anyone with an Apple phone.
Dynamite Hot Sauce
Got a Valentine with a passion for fiery food? Gift them a gift that will blow their tastebuds off with this Dynamite Gift Set!
Roku
Got someone who loves to stream? Now they can stream anything from one convenient place! The Roku sticks on to your TV (inconspicuously) and has the ability to hold channels for Netflix, Disney, Apple, Tubi- literally anything you want so you can watch whatever you want!
Hyper Tough Tool Set
This tool set is perfect for all household tasks or DIY enthusiasts. Give him the gift of a painless way to fix anything that comes up with ease.
The Art of Shaving
Give the gift of a confident shave. This shaving kit has shaving oil, shave cream, shaving brush and razor for a perfect shave, every time.
Forester Sport Watch
For the man who likes to adventure and be active- the Casio Forester Sports watch is waterproof to 100 meters and has an luminescent background allowing him to see the time in the dark.
Old Spice Beard Gift Set
Have a Valentine with a glorious beard? Help him take care of it in style! The Old Spice Beard Set transforms beards from scruff to buff 😉
Drone
Have someone interested in reaching breath taking heights and getting high resolution photos while there? The Jetstream Blizzard 4k Drone is what you're looking for.
Laptop Backpack
Perfect for an active and mobile lifestyle. This laptop backpack features a wireless charging for powering up on the go!