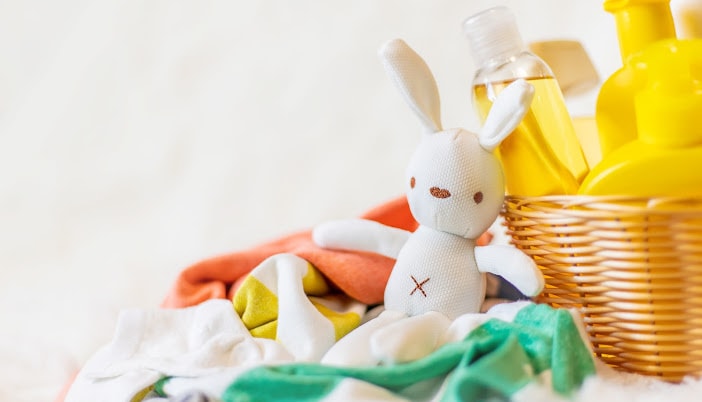 Top baby items for new moms
You're expecting your first baby and you're scouring the internet:
"What are the best baby products? What baby items do I need to survive parenthood with a newborn?"
Take it from the parents who came before you, these are the top rated and most purchased baby products to make your motherhood journey a lot more comfortable and less scary.
Must have baby items:
✔
New Momma To-Do: Create your baby registry
Create your babylist on Amazon and receive a FREE welcome box worth over $35
These Pampers Swaddlers have been formulated to be 2x softer for brand new babies. The quilted hearts offer super soft comfort while pulling wetness and mess away from baby's skin. These diapers also last up to 12 hours which is a must when sleep is so important for mom and dad.
Pampers Water Wipes contain 99% pure water and 1% Ph balancing ingredients and safe cleansers. Free from alcohols, dyes, parabens and ethanol. These wipes are the number one choice of new parents looking for a safe and affordable option for their new babies!
Huggies Little Snugglers diapers use GentleAbsorb technology to protect baby's skin while keeping the mess away. The pocketed back waistband is perfect for preventing those blow outs. These diapers are also certified hypoallergenic.
Taking a babies temperature is not fun. Usually the thermometer is cold and you have to keep it tucked under their armpit. This is hard with a squirming baby!
The BLScode can take your baby's temperature in less than 1 second with no contact necessary. You can also take a quick temperature reading of milk in a bottle or bath water to make sure it's not too hot.
Save yourself some money and get a 3-in-1 car seat that grows with your child. The Graco SlimFit lasts from 5 to 100 pounds, ensuring your baby has a car seat from birth to toddlerhood 🙂
Fourteen thousand people have left reviews for Aquaphor Diaper Rash Cream. It works for diaper rash, eczema, chapped skin, drool rash and more.
When my first baby was born, I had no idea what I was doing with breastfeeding. I ended up hurting my back and shoulders so bad I had to go to the chiropractor before my baby was 2 weeks old.
My Brest Friend nursing pillow encourages better posturing during feeds and is the perfect firmness and shape for keeping baby close.
This is the only nursing bra I recommend to new moms. It's comfy but super supportive, easy to use and easy to clean. I bought a second one shortly after my first Bravado Nursing Bra came in the mail 🙂
RELATED: Bravado Nursing Bra Review
This Earth Mama nipple butter has 6 ingredients and you can pronounce every single one 🙂 It heals cracked nipples so fast and smells like chocolate. I've even used it as a diaper cream in a pinch because it's so safe for baby!
Planning on taking baby to lots of places? The Graco Travel System features a one handed fold making it easy to get into the car when you are carrying a baby. Go from car to stroller in seconds and have your baby facing you while you walk.
RELATED: Best Convertible Car Seats
I only got this with my 3rd baby and it was a MIRACLE. I tell everyone about it. When your baby has a cold and can't breathe through their nose, you'll be so thankful you have this contraption. It pulls all the snot out of baby's nose leaving them able to breathe and drink milk.
The Boba Baby Wrap is simple to use and an easy way to keep baby close while giving mom some hands free time.
These probiotic drops can help ease colic symptoms or times of discomfort for baby. We used these with our second baby who did have colic and they seemed to help enough that I would recommend them.
The Hakaa Breast Pump uses natural suction to help you express milk. Whether you're breastfeeding or bottle feeding, this breast pump is really nice to have around during the first year.
Once baby has grown out of the newborn stage, you'll want a more sturdy carrier. The Beco 8 Baby Carrier is really well made, reasonably priced and will last for at least 2 kids 🙂
Stop worrying about where the pacifier went- these Wubbanub's are impossible to lose and easy for baby to hold.
If you're planning on formula feeding, give yourself the gift of time with the Baby Brezza Formula Pro. It will mix, heat and dispense the perfect bottle every time. No more screaming baby in the middle of the night!
Sometimes finding a safe place for baby to sit is hard to do. This portable baby rocker is perfect for those moments when you need to shower or get something done without holding baby.
These can be used for many different things- feeding, cleaning, changing or popped into the diaper bag for on the go. You can never have too many muslin burp cloths!
You'll use receiving blankets for everything– from swaddles, spit up and messes to a breastfeeding cover!
Give baby a tear free bath experience with this calming and gentle shampoo and body wash.
Cradle baby in a gentle nest while you get some hands free time. It's easy to throw in the wash if there are any spills and boasts a full 5 star rating on Amazon.
Give baby a fun and safe environment to explore. The Baby Einstein mat grows with baby and will last through 5 stages as they grow.
While this isn't completely necessarry, you might want to consider it. Diapers don't smell very pretty- the Diaper Genie will trap the odor giving you a smell free nursery.
Which brand is best for baby products?
Chico
Evenflo
Philips
Pampers
The Honest Company
Huggies
HelloBello
Earth Mama
Burt's Bees

Which brand is safe for babies?
There are some brands you can trust above others. We'll break these down into categories to make it easier:
Safest baby skincare brands
Safest car seat brands